FREQUENTLY ASKED QUESTIONS
Here, you will find answers to the most common questions that we receive.
Will I receive my original memories back?
Absolutely! Once your order is completed, you will receive all of your original items, plus the digital files to keep forever.
How do I get my memories to you?
We have two drop-off locations, which can be found here. We also offer free pick-up and drop-off within the GTHA for orders over $200 and free return shipping Canada-wide.
How can I schedule a free pick-up?
We are happy to offer all of our clients in the GTHA a free pick-up and drop-off service. You can schedule a free pick here and we will give you a call to confirm.
Why should I transfer to USB instead of DVDs?
The main reason why we recommend transferring your memories to a USB or external hard-drive is because DVDs get easily scratched and damaged, which would require you to re-transfer your memories to digital. DVD discs also compress the video files, meaning that the quality of HD transfers is lower than the original source file.
Do you offer discounts for larger order?
We do! If you have a lot of memories that need to be converted to digital, please give us a call at (416) 893-9371 or send us an email at info@digitalplus.ca and we'll be happy to discuss your custom quote.
Where do my memories get digitized?
All of our video, film and photo/slide transfers are completed at our Georgetown location. We never outsource any orders to another company.
I need my order digitized ASAP!
Not a problem, we can help! If you're in a rush to transfer your memories to digital, we offer a rush service (extra fees may apply). Please send us a message or give us a call to discuss your rush order.
How should I mail my order to you?
Please use a courier service that provides a tracking number, such as Xpresspost, UPS, FedEx or DHL. As soon as your order is received, we will contact you to let you know that your package has safely arrived. Please package your items with bubble wrap or paper and ask the mail clerk to put a "fragile" sticker on the package. Our shipping address is 27 Norton Crescent, Georgetown, ON L7G 1M9.
What payment methods do you accept?
The most preferred method of payment for our customers is Interac e-transfer, which is sent directly through online banking. We also accept cash and credit cards via PayPal (we do not take cc numbers over the phone or email).
How can I share my digital memories with others?
We can upload your transferred memories to online storage such as Google Drive, DropBox or direct download link, which you can then share with your family and friends.
What type of tapes do you transfer to digital?
We transfer most types of videotapes to digital. This includes VHS, VHS-C, Hi8/8mm, MiniDV, BetaCam, BetaMax and U-matic tapes. We accept both PAL and NTSC formats.
How much do you charge to transfer tapes?
We charge $19.99 for VHS and VHS-C tapes (up to 2 hours in length), $21.99 for Hi8/8mm tapes (up to 2 hours in length), $19.99 for MiniDV tapes and $29.99 for Betacam/max tapes. We are happy to offer lowest prices in Canada for high-quality video conversions.
How long do videotape transfers take?
Most videotape to digital transfer orders are completed within 5 business days, however that depends on the volume of tapes. Please contact us to discuss a quote and estimated completion time.
What type of equipment do you use for video transfers?
We use professional grade videotape capturing equipment that safely converts your footage to digital. We always clean tapes prior to digitizing them to ensure the highest possible results.
Do you charge for blank tapes?
No, we do not charge for empty or unwatchable videotapes. After we clean up each tape, we quickly scan each one to make sure that there is valuable footage on each tape.
Are there any tapes that you cannot transfer?
We cannot transfer any copyrighted material without a written consent from the original publisher. For example, we cannot convert an old Disney movie.
My tape may be broken, do you offer a repair service?
We do offer a tape repair service, starting at $10 per tape. 
Why should I use your service instead of doing it myself?
Most cheap "do-it-yourself" video converters you see for sale online provide extremely low quality video transfers and are very time consuming. We are happy to offer lowest pricing in Canada for video transfers to save you time and money!
I have a lot of tapes, do you offer discounts?
If you have a large amount of tapes (50+), please give us a call at (416) 893-9371 or email us at info@digitalplus.ca and we'll be happy to discuss a custom quote for you.
I may have private/sensitive footage on my tapes...
You can rest assured that your private footage is safe with us. We never outsource any orders to another company and everything is processed in-house. After your order is completed and you receive your digital files, we will permanently delete these videos.
What type of film do you transfer to digital?
We transfer 8mm film, Super 8 film and 16mm film to any digital format of your choice (both silent and with sound).
How much is it to transfer a 3" 50-foot film reel?
We are happy to offer the lowest prices in Canada for film conversions. We charge only $0.18 per foot of film for standard-definition transfers and $0.24 for full HD transfers, which works out to $9 per small 3-inch reel in SD and $12 in HD. For film with sound, please add $2.50.
How long do film transfers take?
Most film orders take 5 business days, depending on volume of reels. If any reels need splicing, repair or extra cleaning, your order may take longer. We will stay in touch to keep you updated on the progress of your order.
What is the difference between 8mm and Super 8 film?
The easiest way to tell the difference between 8mm and Super 8 film reels, is by looking at the size of each frame and location of the sprocket (hole). On 8mm film, you will find each sprocket in between frames, while on Super 8 film the sprockets are smaller and are beside each frame. Please refer to the image below: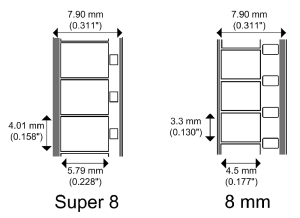 Source – https://en.wikipedia.org/wiki/Super_8_film 
How do I know how many feet my film reel is?
Please refer to this chart below:
How do I know if my film reels have sound?
For 8mm/Super 8 film, easiest way to find out is to check the actual film reel and see whether it has an orange line running across the film. If it does, then your 8mm or Super 8 will contain sound. 16mm film reels with magnetic sound will also have the orange stripe, however, 16mm film with optical sound will have a yellow strip with distorted waves.
What do you transfer film reels onto?
We highly recommend transferring your 8mm and Super 8 film reels onto a USB key or an external hard-drive, as they are much more reliable than DVDs. We can also upload your converted film reels to online cloud storage and send you the link to download them.
Will I be able to edit and these video files?
For sure! Each film reel will come as a labeled .mpeg4 video file, which can be edited and sent digitally to your family and friends.
What resolutions do you offer for film transfers?
We transfer 8mm, Super 8 and 16mm film in three resolutions:
SD (720×576) – $0.18/ft
HD (1920×1080) – $0.24/ft
2K (2048×1536) – $0.48/ft
Can you add music to my silent film reels?
Absolutely! We can add classical music (or any other type of music of your choice) to silent film reel conversions. Please add $5 per 50″ reel to add music to your films.

We offer a complimentary local pick-up service on any orders over $200. Schedule local pick-up here.

Shipping your memories in? We offer free return shipping Canada-wide. Read about shipping here.

We are a family owned and operated business. All orders are processed in-house and never get outsourced.
Jessica Siewdass
2023-07-20
They did an amazing job with our precious old tapes. Great memories that we can finally watch again. The process was simple and quick. They even did my damaged tape that I gave to them damaged. So happy! Definitely recommend.
I had no idea this kind of service even existed. Very thankful for Artiom and Digital+, they gave us fair price, great communication and took care of our old and very sentimental family VHS and beta tapes. 10/10
Dorcol Enterprises
2023-06-09
Thank you Digital Plus for helping our family save generations of memories
Rose Secan-Lintner
2023-06-06
I had a very precious VHS tape and needed it transferred to a flash drive, and there was very little time. The company, not only understood my need for speed, but also the delicate nature as it was for a family member who was ill. Even though I was not familiar with the e transfer method of payment, they went ahead and sent the flash drive back before I was able to pay. It arrived safe and sound and in record time. I will use Digital+ again recommend to my friends. Many of us have old tapes we have not seen in years, how wonderful to see our memories again.
jerome pepping
2023-05-04
I have used Digital+ twice now. The service speed is fantastic. My second order was 20 reels of film and got it back in just over a week. Take off 2 days for courier, and the speed of getting this done is awesome. The quality of the transfer is great! I will surely use them again. I just have to dig them out. I recommend them for your file transfers. Top notch service!
Digital+ are great. The communication was excellent and the price very reasonable. They answered all my questions and were good to deal with. The quality of the super 8mm and 8mm to digital is really good. My family will enjoy hours of watching. Five stars.
Sandra O'Brien
2022-10-20
Excellent service. Great videos of memories. So happy I did it and that I chose Digital+
Anna Sferrazza
2022-05-30
My experience with Digital + was absolutely excellent. I can't speak highly enough about them. They were extremely quick in responding to any and every question I had. I had lots of old 8mm Super 8 and Hi 8 films to be digitized. Some of the Super 8 was in pretty poor quality as they had been kept in garages for the past 50 years. Digital + restored all the tapes and delivered a high quality product so quickly! I felt they treated my family's memories through these tapes with so much care and respect, I am so grateful for them. I was shocked at how fast the process was! I was a bit nervous before reaching out, because I live across Canada from where all my films had to be sent, but the process was quick, smooth and all the incredible memories that have now been digitized is such a gift for me and my family. I would highly recommend this service to anyone and I will undoubtedly be using them again the future!
Digital+ converted our family videos from the 90's and brought many happy memories to light. We have reviewed 2 hours of video so far, (several times), and look forward to reminiscing through many more hours of additional video. So happy to have found their service that resurrects precious family memories.